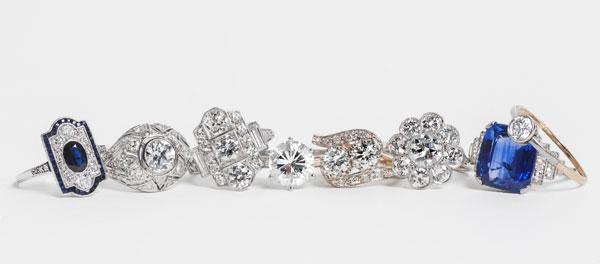 Engagement Rings
A Shining Symbol of Love
The engagement ring embodies the glittering promise of a shared future. Discover our great offering of classical solitaire rings with radiant diamonds – or our selection of elegant Toi-et-Moi and Trilogy rings: All of them are romantic gifts, spanning time from the 18th century to the 1960s. An what is the best: An antique ring is guaranteed to survive all passing fashions – as its classic design has long proved itself.
The tradition of choosing a solitaire as an engagement ring was started at the end of the 19th century by the New York-based jeweller Charles Lewis Tiffany. In the USA, this type remains the classic engagement ring up to this day but other forms have been established as well.
In the decades following 1900, so-called Toi-et-Moi rings enjoyed great popularity. These rings present two precious stones or a combination of a precious stone and a pearl, which were thought to be symbols for the soon-to-be-wed couple. Trilogy rings are also wonderful engagement gifts. Past, present and future are represented by their three stones and refer to the life that the couple will now share.
Selecting an engagement ring is always difficult because there's so much to think about! As a gift, it should suit the tastes of the loved one, be something that can be worn daily and finally portray a timeless beauty so that coming generations can enjoy it as well.